Testimonials
From: A Happy Customer
Awesome Service, Awesome Product, and Real American Made Quality. All of what makes Fred the guy to deal with and to come back to for ANY Wheel Spacer Needs. I love mine, and love my ride even more after the use and installation of your product. Keep up the Top Notch Service & Support and it shall bring only more folks to come.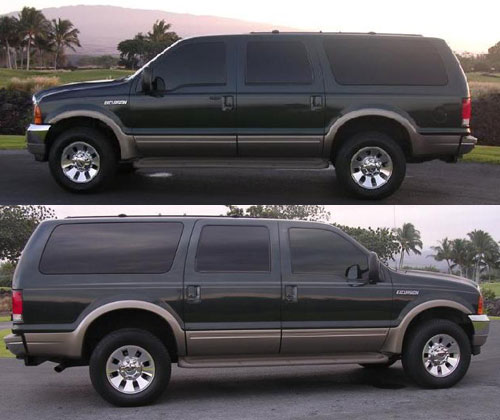 To: Fred Goeske
Subject: Thank You
Fred,
I want to thank you for the best service I've ever come across. I didn't know there were people out there that still took pride in their craftsmanship like you. Excellent product and incredible fast transaction!
I already recommended you to all my friends and shops that work with Vehicles and Lift Kits. Here are some pics of before and after of my 2005 Hummer H2 SUT. Before with the 6 inch lift and 38" tires, and after with the 12" lift and 44" tires with your 2.5" wheel spacers, without which this kit would not have been possible.
Thanks again Fred!
Regards,
Justin Breau
Extremely Satisfied Customer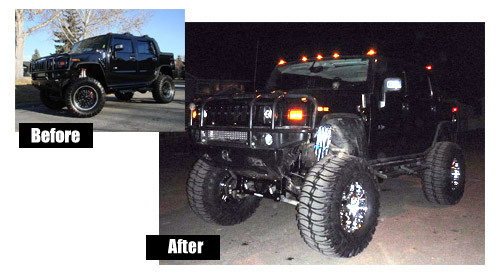 Justin Breau
Fred,
I want to thank you for always demanding the very best in quality and safety with every job. You make a commitment and always follow through with your customers and your products. Even though I was in a major time crunch, you made all the phone calls needed and was able to complete my "One-Off Wheel Spacers" on schedule. I am extremely happy with the finished product and will refer you when ever I can.
Barry Johnston

Barry Johnston
Fred,
Thank you for your great service and the time that you took on the phone with me. I only put quality parts on my truck and that's what you have sent me. I was able to install the larger tires. I have not lost any capability in towing or hauling and it looks great.
https://www.ford-trucks.com/g/album/828062
Member of FTE
Dave Stitt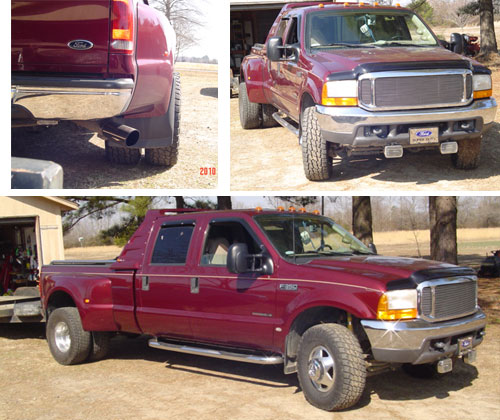 Dave Stitt
Hey Fred,
Here are some before and after pictures. Sorry I couldn't line up any bikini girls like the car magazines have on short notice. Your adapters were great... I opened the package and was in awe of the precision. They looked so good I hated to cover them up with the wheels. Truck sure looks better and you were right about the 3" added wheelbase. The truck corners like a slot car now. Thanks a lot... I will be sure to recommend you. As a matter of fact I am going to be sure that Discount Tire knows about you, because they didn't know where I could get adapters. They will know now.
If you want to e-mail me a copy of your business card I will print them up and give a stack to Discount Tire to have on hand for their customers.
Thanks again,
Happy Customer Keith Henson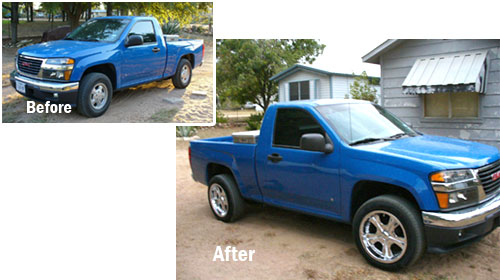 Keith Henson
To: Fred Goeske
Subject: Spray truck pictures
I finally got the truck all together and thought you would like to see it. I got to try it out and applied about 600 acres of roundup in the past couple days and everything works great! The wheels don't rub at all with the 3" body lift and a little trimming on the bumper. Thanks again for working with me on the adapters.
Krist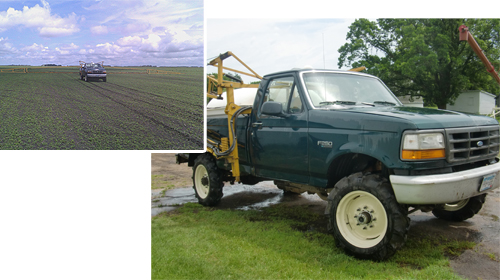 Krist Olson
Fred,
The Mustang didn't survive, but your wheel spacers sure did. Not only did they survive, but they were like new so I put them on my other vehicle. You may post these pictures on your website as a testimonial for others to see the strength and high quality of your spacers. Thanks again, Fred for a solid product.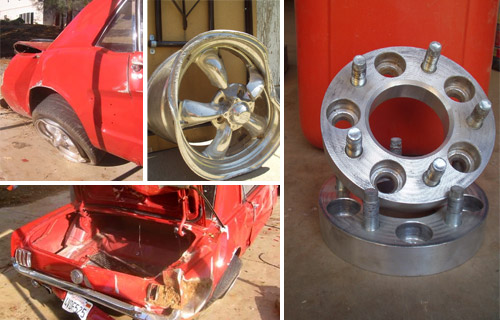 Chris Souther
Fred,
I wanted to thank you again. Here is the Chevy that you helped me with on the wheel adapters. Notice the picture showing your wheel adapter.
Thanks again. I am very pleased and had no problems whatsoever. Fit like a glove !!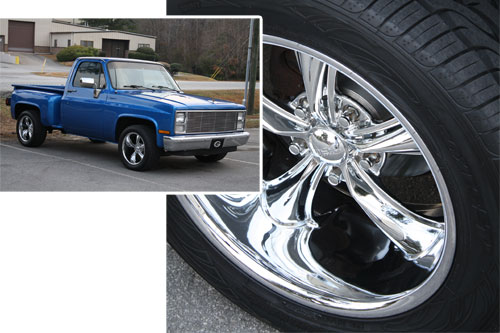 Wade
Fred,
Thanks so much for all your extremely rare 1 on 1 help. The customer service that you provided was trully remarkable! Who in their right mind answers phones nowadays on sundays, let alone a single man operation. You surprised me. The product fit perfectly and everywhere I go people want to know how in the world did my truck acheive fitting tires of this size. I tell 'em Fred is your man.
Thanks,
Lee
2006 Hummer SUT
2inch spacers, 39x15.5r17

Used to have 35x12.5r17 tires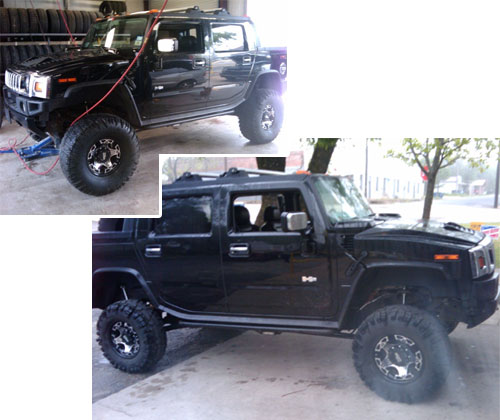 Lee Hernandez
To: Fred Goeske
Subject: Thank You, job well done
Fred,
Too often nowadays, people will take the time to complain if something is wrong or craftsmanship is poor...I believe in saying thank you and job well done when the job is done well.
Fred, I'd just like to say thank you to you and your staff for the excellent job you did on my wheel conversion kit, and for completing the job in such a short time. I've enclosed some before and after pictures for you, please convey my thanks and job well done to your staff. I certainly hope to get to Southern California soon to meet you in person and shake your hand.
It's refreshing to do business with a company who takes pride in their work and craftsmanship. Feel free to post this letter on your website is you so desire.
John Grassanovits
Mr. Goeske,
I really wanted to thank you for your help and quick response to my questions about the 5/8 stud Dodge dually spacers. I received them very quickly and installed them today. The instructional video was very helpful. The spacers went on very smoothly and without any troubles. I am extremely impressed with the quality and workmanship of the spacers. A perfect fit. I had guys on some forums tell me that I paid too much, but I feel that I got more than my money's worth. I just wanted to thank you and let you know that your kind of quality service did not go unnoticed. Thanks again!
Brock Burington, DoubleJack Trucking